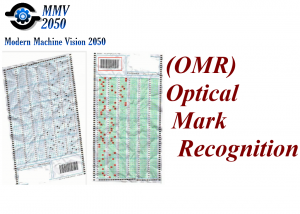 There is the full description of product in the table below and a video demo of software execution are shown at the bottom of page.
Definition
Answer sheet checker
Designing answers sheets and surveys and analyzing them is one of the most tedious tasks for researchers and schools. Especially when the number of tests in the sheets is high, the accuracy of the corrector decreases. Oprical mark recognition(OMR) software helps correcting many answer sheets automatically and intelligently without user supervision with high accuracy and speed.
Answer sheet designer can easily design different forms and answer sheets then using the answer checker software to analysis photos or scanned from of the answer sheets and automatically the results can be announced as output. In fact, the filled marks for each test are checked by the software with the help of image processing and artificial intelligence algorithms.
The ability of software is to define answer sheets with unique barcodes for students which are check by the barcode reader, so you can analysis batch sheets.
Function
Software capabilities
1- Designing worksheet forms with the number of variable answers (one or more answers) and with the desired distance and location on the page that can be used for a variety of test or survey questionnaires, etc.
2- Defining the barcode for each answer sheet and then reading the barcode and identifying the owner of the form that can be used in the four-answer tests for students.
3- Intelligent and automatic reading of marked answers by taking a photo or scanning the printed form
Features
Technical Features of answer sheet checker Software
1- Ability to adjust the accuracy of recognition in reading answer marked with pencil or pen or types of checking and filling
2- Detection speed less than one second for each page
3- Design the location of the answers in each part of page
4- No dependence on the rotation of the sheets or the inversion of the sheets when taking photos or scanning
6- Possibility of batch processing of files without supervision or with user supervision
Performance
Speed and accuracy of the Optical mark recognition (OMR) software
It takes less than a second to correct the answer sheet for each sheet.
The accuracy of the software for identifying answers can be changed so that the user can change the accuracy of the software for forms that are not standard filled until it is well detected.
Software platform
Answer sheet checker System is working under Windows and .NET platform.
Send this page to your friends on social networks
Price
Send us your complete requirements
Do you need application code?