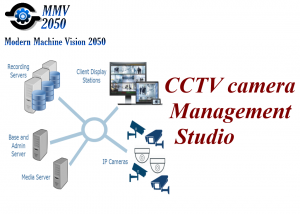 There is the full description of product in the table below and a video demo of software execution are shown at the bottom of page.
Definition
Cctv camera monitoring software
CCTV cameras are widely found in all places, including homes, factories, security agencies, roads, and stores, especially in the IoT. There is a lot of software to control and monitor the cameras, which perform functions such as video recording and playback, image magnification, and so on.
Applications of CCTV cameras include storing text images and archiving them in memory, as well as processing incoming images to discover specific information such as license plate and speed cameras in traffic control software.
Function
The two main actions in CCTV surveillance software
1- Record and save videos:
Recording videos or taking photos from Ip-cameras.
2- Discovering information from camera:
Ability to use as a platform for modules to detect objects in images or motion detection, etc. from a set of cameras concurrently and at high speed and generate data storage in the database for future reporting.
Features
CCTV camera monitoring Features :
1- Ability to communicate with a variety of network cameras, USB and even video and photo processing as virtual camera
2- Possibility of simultaneous connection to a large number of cameras and their multiprocessing
3- Save videos and photos and other data extracted from the output of the modules used in the database
4- Reports based on time intervals
Performance
The processing speed of this software is based on Multiprocessing and Multithreading techniques, which simultaneously processes the images received from the camera.
Send this page to your friends on social networks
Price
Send us your complete requirements
Do you need application code?